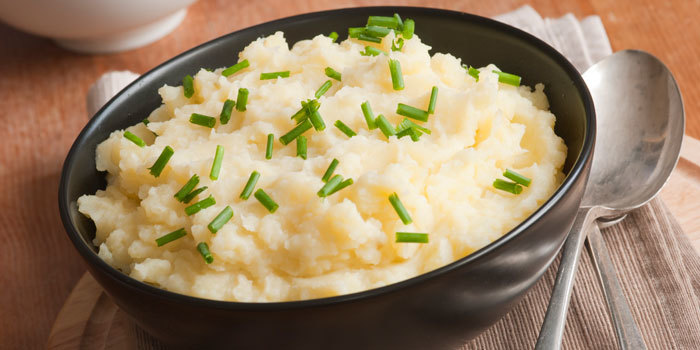 This twist on mashed potatoes is made with a non-starchy veggie, no cream and butter — and yet, it's every bit as yummy as your traditional mashed potatoes.
21 Day Fix-creator Autumn Calabrese and her brother, chef Bobby Calabrese have put together an incredible menu of Fix-approved Thanksgiving recipes for their new cooking show FIXATE that are healthy versions of your favorites. From Green Bean Casserole and Cranberry Sauce to stuffing and Pumpkin Whoopie Pies, they've got you covered. Check out FIXATE here!
Total Time: 50 min.
Prep Time: 5 min.
Cooking Time: 45 min.
Yield: 8 servings, ¼ cup each
Ingredients:
1 (2-lb.) cauliflower, cut into small florets, discard stem
4 tsp. olive oil
1 tsp. sea salt
¼ tsp. granulated garlic (optional)
2 Tbsp. low-sodium organic vegetable broth
Preparation:
1. Preheat oven to 400° F.
2. Wash cauliflower and pat dry.
3. Place cauliflower in large baking pan. Drizzle with oil; toss gently to coat. 4. Season with salt and garlic.
5. Bake, stirring halfway through, for 40 to 45 minutes, or until tender.
6. Place in food processor; add vegetable broth. Pulse until smooth.
Nutritional Information (per serving):
Calories: 46
Total Fat: 3 g
Saturated Fat: 0 g
Cholesterol: 0 mg
Sodium: 319 mg
Carbohydrates: 5 g
Fiber: 2 g
Sugars: 2 g
Protein: 2 g
P90X/X2 Portions
1 Vegetable
P90X3 Portions
½ Carb
Body Beast Portions
2 Vegetables
Containers
1 Green
½ tsp.